CCC with solid sales growth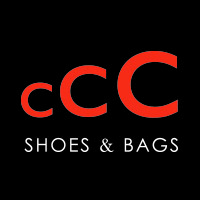 The Polish-based company announced strong quarter results. April revenue with 21.4% increase compared to similar month in 2014
CCC, one of the largest footwear producers in Europe, presented another set of strong results. Reinforcing its solid position in Central Europe, the company, which combines production and commercial activities, confirmed limited impact of the currency fluctuations in its results, as most purchases are done in euros resulting in minor exposure to the US dollar / Euro variations.
Total revenue reached 106.2 million euros, growing 20.1% from similar period last year. Net profit totaled 1.57 million euros, an increase of 1 440.6% from similar period last year.
By the end of the first quarter the company had a distribution network of 729 outlets, of which 674 are own or agency stores, and 55 are franchised stores. Most stores are located in Poland, where 435 own / agency and 6 franchise stores are located. Czech Republic (78 own / agency) and Romania (33 franchised stores) follow.
The structure of sales by country shows that Poland concentrated 66.4% of total revenue generated during the first quarter of 2015. Czech Republic (8.8%), Hungary (6.1%), Slovakia (5.0%) and Germany (4.2%) followed. A structure quite in line with similar period in 2014, although growth in Austria (from 1.5% share in quarter one in 2014) and Germany (from 0.9% in quarter one in 2014) can be highlighted.
Sales of Women shoes represent 53.0% of total revenue generated in quarter one. Men shoes followed with 23.8%, then Kids (13.8%), Bags (4.8%), Shoe care products (2.2%) and Other (2.4%). Women's shoes reinforced its position within the portfolio of products commercialized by CCC (compares to 50.2% in quarter one in 2014) and the Kids segment lost some share (from 16.4% to 13.8%).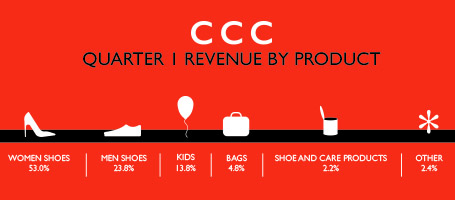 When presenting the company's results, CFO and Vice President Piotr Nowjalis said that the company intends to diversify its portfolio, however without introducing major changes. New lines of accessories are in the pipeline to be introduced (leather and non-leather) but no clothing lines are forecasted.
Present in 14 European countries, the company highlighted the dynamic expansion in all countries, although future plans to strengthen the company's position will privilege Slovakia, Austria, Hungary, Germany and Czech Republic. The aim for 2013/15 is to become the market leader in the CEE countries, while strengthening its unique leader position in Poland.
In the meantime, the company already announced consolidated revenue results for April, which amounted to 53.38 million euros, higher by 21.4% than in the corresponding period last year. Revenue of the period January – April amounted to 159.31 million euros and were higher by 20.3% than in the corresponding period 2014.