Birkenstock named Brand of the year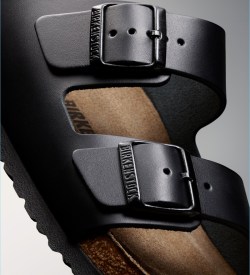 The recognition was given at the Annual Footwear News Achievement Awards in New York city. This marks the second time the German brand receives such top honor, after also being awarded in 2013. The prize was received by Birkenstock Global CEO, Markus Bensberg, and Birkenstock Americas CEO, David Kahan
"We are honored and incredibly grateful to be recognized by Footwear News. 2017 was an important year for Birkenstock in terms of brand-building and growth, especially in the US with the BOX in partnership with Barneys New York, and our first Pop-Up store location. We continue this path of growth for the coming year with a global marketing initiative and new store openings worldwide," commented Birkenstock Global CEO, Markus Bensberg.

Birkenstock debuted its Spring/Summer 2018 collection at the Tuileries Gardens as part of Paris Men's Fashion Week, attended by key industry figures, VIPs and influencers in June 2017. The presentation captured the resurgence of the brand while remaining true to its unique heritage. Birkenstock then launched a mobile retail concept, the BOX, and the brand amplified its global presence through selective collaborations. The global tour of the mobile retail concept, the Birkenstock BOX, kicked off in Berlin in July 2017 at Andreas Murkudis. Renowned architects Pierre Jorge Gonzalez and Judith Haase transformed a freight container into a retail space, which travels to select specialty stores worldwide.
Birkenstock also launched its first true global brand advertising in 2017 with a still-life product-focused campaign shot by world-renowned photographer, Dan Tobin Smith.

"2017 was a tremendous year for Birkenstock here in the US and around the globe. We have enjoyed five straight years of tremendous growth and it is just the foundation. We will continue to aggressively manage our distribution while we expand our product range in the seasons ahead. We are thrilled and humbled to be named Brand of the Year again and we sincerely thank the industry for the recognition", added Birkenstock Americas CEO, David Kahan.

Birkenstock is a global footwear brands with around 3 800 employees, with historic roots that can be traced as far back as 1774. The company, still maintaining its familiar touch, is currently in the hands of the sixth-generation of the same family.