APICCAPS launches Portuguese Soul magazine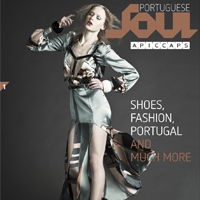 APICCAPS has just launched the
Portuguese Soul
magazine. Distributed to thousands of fashion retailers in over 30 countries, the new edition seeks to empower portugality, associating itself with the excellence of the Portuguese footwear offer. On a semester basis, the
Portuguese Soul
magazine integrates itself in an image campaign that is underway in the footwear industry, with support from the Compete Program, that intends to re-position the Portuguese offer in the international competitive stage.
The Portuguese Soul magazine seeks to explore the most characteristic aspects that encompass the Portuguese footwear industry, highlighting the sector's latest innovations and events and it's protagonists, this in the same way that it invites importers from all over the world into a timeless travel to the Portuguese reality. Themes such as fado, tourism or Portuguese culture are un-avoidable references of the new publication. The legend of the Barcelos Rooster, the recipe of the famous pasteis de nata or valuable information on the city of Guimarães the European Capital of Culture or the Douro region – World Heritage Site deserve ample attention.
Portuguese Soul further reveals the latest fashion propositions from some of the most important footwear brands, associating itself to the various collections of notable Portuguese designers such as Luís Buchinho, Nuno Baltazar or Ricardo Dourado, in the same way it highlights the work of the Centro de Formação Profissional da Indústria de Calçado's (The Footwear Industry´s Centre of Professional Training) modeling and design course graduates. There was even a chance to highlight the important role that the two great Portuguese fashion events, Modalisboa and Portugal Fashion, over the last 20 years.