3D Printer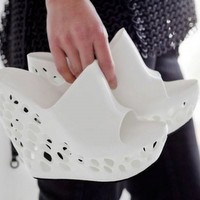 This trend is a revolution in the market. We can print a pair of shoes within 7 hours only.
The designer and creative director at 3D systems, Janne Kyttane, has created a range of
3D- printed
shoes for women. The shoe can be made at home, only in 7 hours.
Consumers can download the digital files for the shoes – for free -, the size and print them in a color of their choice. Between seven or eight hours the shoe is ready. There are many types of shoes that clients can produce themselves, using this printer.
This technology mainly attracts male audience. Therefore, this project has a big goal: to generate female audience, and show them the advantages of having a 3D printer. Create the shoes one day, and wear them next ,is the big appeal for the project. Besides, the creator wants women to be able to use different shoes every day.
In industry 3D printer is already being used by creators and artists, especially to produce exceptional works. In the shoe industry, women's shoes and sneakers are areas that benefit from 3D printers. Also, big brands specializing in sporting goods are already using this technology for prototyping.
An example of this trend was an exhibition in London, where young designers showed unique shoes made by a 3D printer. A young Texan also made files to print a gun that shoots real bullets.