20th UITIC Congress in Porto: Submit your idea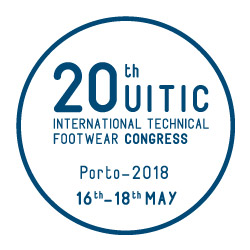 Following a long lasting tradition the UITIC Congress will present innovative projects and technologies for the footwear industry, and now innovators are invited to present their ideas on a "call for papers"
The deadline for submissions is the 20th of December 2017, and papers should be aligned to the thematic of each session of the 20th UITIC Congress, whose theme is From Fashion To Factory: A New Technological Age.

The first session will be dedicated to new products and new services and will aim at understanding the needs of the markets including the niche markets, consumers' needs.

The second session is more orientated to the intelligent development and manufacturing and will focus on how can we rethink the tools at the service of the industry. New technologies are indispensable means to provide more improved, secure, flexible, reliable, competitive tools. They constitute a vast field of improvement in the overall competitiveness of a company. It is essential to reduce the times of innovation, design and production, through the massive use of models and digital data exchanges. In this session, intelligent factories (Industry 4.0), robotics and 3D printing will probably be topics to address and discuss deeply.

Sustainability, supply chain transparency and regulatory issues are a key theme and will fill the third session. One cannot disregard that consumers and distributors' expectations on societal and environmental aspects will more and more impact footwear factories. Clean and safe factories, implicated into their industrial ecosystem, thrifty in raw materials and energy, controlled supply chain will be essential for all the footwear manufacturers. How can companies ensure they are complying with it all?

The fourth session will be dedicated to Logistics, Advanced retail and marketing. The development of e-business and its impact on logistics and distribution, personalized product development, new sales concepts and organization of the supply chain to anticipate market requirements will certainly be under discussion and be of interest to all participants.
The last session will reflect on Human centered factories and a new way of management. The new technological age in which we are entering, will impose deep evolutions regarding man's place in the footwear industry. It needs a human-centred factory, in order to better take into account collaborators' expectations all along their active life and better attract talents it needs. Digital revolution will strongly impact the skills required and new jobs will emerge.

The UITIC committee will announce the chosen speakers by the 30th of January 2018 and then final texts should be submitted by the 15th of April 2018.