2017 shoe summer kicks off next week with GDS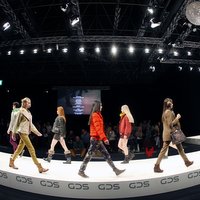 Next week Düsseldorf will see over 740 brands feature at GDS – Global Destination for Shoes & Accessories as well as an additional 170 exhibitors at tag it! – The Private Label Show
For the first time both shows will run from Tuesday, 26th, to Thursday, 28th, opening from 9.00 am to 6.00 pm.

The new sequence of days for the event will also be rolled out to the coming winter edition of the fairs from the 7th to the 9th of February 2017.

Werner Matthias Dornscheidt, CEO at Messe Düsseldorf, is satisfied with exhibitor numbers in view of the current market climate: "740 brands will be showcasing their new collections at GDS. This means we continue to offer a unique range: here retailers can gather comprehensive information on all market segments and there is also a varied supporting programme."

GDS and tag it! will be held in Halls 1 to 5. Furthermore, in front of Hall 4 there will be a Pop Up Market in the form of a roofed bumper car with additional exhibitors. The three lifestyle worlds Studio, Highstreet and Pop Up offer a perfect overview of the international collections.

Maintaining an overview is essential for Kirstin Deutelmoser, Director of GDS and tag it!: "It is about variety – retail needs impulses through new brands but also via established exhibitors. Add to this challenging issues like sustainability, customer service, social media and future trends. Which is why these are exactly the themes we reflect and why we relay know-how and look to inspiration."

On the 28th of July interested shoe manufacturers and retailers at GDS can learn about the details of sustainability concepts in the shoe sector at a special workshop. Awaiting visitors under the heading "Green Shoes for a Sustainable Life" is a lecture on the results of the project "Step to Sustainability" as well as two panel discussions with key sectoral representatives presenting and explaining best business cases for the shoe sector.

The workshop is organised by the European Confederation of the Footwear Industry (CEC) and its European partners in the project "Step to Sustainability".