Teva and UGG unveil hybrid collection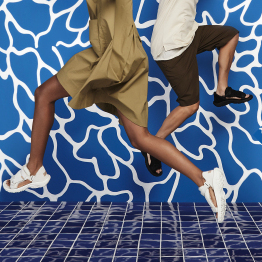 The two brands, both divisions of the Deckers Brands group, have unveiled a new collection that takes cues from their iconic footwear heritage
Delivering quirky-cool hybrids that are designed to take on the urban trail, the Teva x UGG collection comes from two brands that were born from the water and evolved in different directions, combining the "legendary river utility of Teva and the surf inspired beach-chic coastal ease of UGG".

According to both brands, the new collection was conceived at the intersection of fashion and function: "The Teva x UGG collaboration allows us to celebrate expression of freedom while showcasing the innovation that is infused into each of our products", stated Wendy Yang, President of the Performance Lifestyle Group at Deckers Brands, adding: "With this collaboration, we wanted to fuse the most iconic and loved elements from both brands and deliver them in a contemporary collection for the modern consumer."

Available for a limited time in two signature styles – the Sandal and the Hybrid – the Teva x UGG collection is offered in highly wearable hues including Black Iris, Dark Gull Gray, White, Navy, and Burnt Olive.

"Our latest collaboration with Teva celebrates the art of footwear design," says Andrea O'Donnell, President of the Fashion Lifestyle Group at Deckers Brands. "It's a rarity to have two iconic heritage brands with such distinct DNA under the same umbrella. It's allowed us to create unique, fashion-forward styles that are equal parts aspirational and accessible."

The Teva X UGG collection can be purchased online at Teva.com and UGG.com or at select UGG concept stores and retailers.