Marc Fisher as global footwear partner for Tretorn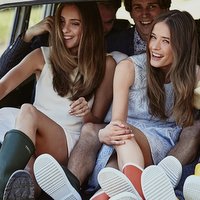 Authentic Brands Group, owner of a global portfolio of iconic fashion, sports, and entertainment brands, today announced the signing of a long-term partnership with Marc Fisher Footwear for brand Tretorn
The agreement with Marc Fisher Footwear marks the first step towards driving Tretorn's global growth strategy following ABG's acquisition of the brand in late June.

"We are excited to partner with Marc Fisher Footwear to usher in a new era of expansion and brand development for Tretorn. Marc Fisher's extensive knowledge of the industry and mastery of footwear design, manufacturing and distribution is an incredible asset to the growth of the Tretorn brand", stated Nick Woodhouse, President and CMO, ABG.

Tretorn has a long heritage of merging functionality and style across its footwear collections designed for men, women, and kids. The brand offers fashionable essentials for active living, suited for outdoor enthusiasts and city dwellers. As part of the Tretorn growth strategy ABG is focused on expanding the core and extending the brand into softlines and lifestyle categories.

"For more than 120 years, Tretorn has been an iconic brand delivering both performance & style. Tretorn represents a multi-faceted opportunity to re-build a heritage brand with opportunity in the domestic & international marketplace. We are excited about this new opportunity and to work with ABG in relaunching Tretorn", said Susan Itzkowitz, President, Marc Fisher Footwear.

Marc Fisher has created best-selling collections for many leading designers for over 34 years and brings his vast experience to Tretorn as designer, manufacturer and distributor for the brand.

Authentic Brands Group believes that the combination of Marc Fisher Footwear's extensive retail relationships, strong design skills and distribution capabilities will allow for a new level of global development and recognition of the Tretorn brand.

The first collection of Tretorn products produced in collaboration with Marc Fisher Footwear will be launched in Fall 2016 across key retail channels.