V Muthukumaran appointed President of Indian Shoe Federation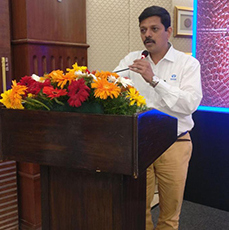 The Indian Shoe Federation appointed Mr V Muthukumaran, Head of Leather Products, Tata International Limited as President during their AGM in Chennai
Mr Muthukumaran takes charge as President from Mr KR Vijayan for the term 2019-2021. He previously held the role of Vice President during the elections for the term 2017-2019.

Commenting on the appointment Mr Muthukumaran said: "I am extremely excited to take on the new role with Indian Shoe Federation and it gives me an opportunity to shape the future of the Indian Footwear Industry". He further went on commenting that as capacities are full in China and Vietnam, the opportunity is available to India creating opportunities for the local industry. He went on to caution a solution must be found for optimizing cost of manufacturing and that the Indian Shoe Federation must charter a growth plan to take the industry to the next level.


Founded in 1992, the Indian Shoe Federation (ISF) has many leading manufacturers and exporters of footwear and footwear components from India as its members.

According to the 2019 edition of the World Footwear Yearbook (
AVAILABLE HERE
) in 2018 India was the
second largest manufacturer of footwear
with a 10.7% share in
global production
(volume wise). Most production is orientated to the internal market, as in 2018 only 262 million pairs ended up being exported (which compares to 2 579 million pairs produced in the year).
Image credits: tatainternational.com