Consumer confidence improved consumption dynamics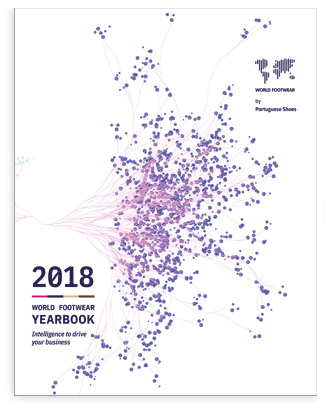 The conclusion is from the 2018 edition of the World Footwear Yearbook, now published by the Portuguese Footwear Association
The year 2017 was marked by positive dynamics across the worldwide footwear industry. After two years of stabilization, both production and exports started to growth. The data is from the World Footwear Yearbook 2018 now published by the Portuguese Footwear Association, APICCAPS.
The growth registered in 2017 has been driven by a combination of factors: an increase on consumption in the main Asian manufacturing countries, the growth in export flows to the developed world and the increase in the average export prices.
Asia buys 54% of all shoes consumed in the world being followed by Europe and North America with 16% and 15% respectively. Compared to the first edition of this publication in 2011, Asia's share is up by 5 percentage points and Africa's by 3, whereas Europe has lost 4 percentage points while North and South America have lost 2 points apiece

India overtakes the USA
In 2017 India overtook the USA as the second largest consumer of footwear: a milestone in Asia's ascent to prominence in the world market, reflecting strong demographic and economic trends.

China remains in pole position at the head of the table of the 10 largest footwear consumers where 3 other Asian countries also appear: Pakistan, Japan and Indonesia. These 5 Asian countries represent almost 40% of world consumption