McNamara teams up with ASPORTUGUESAS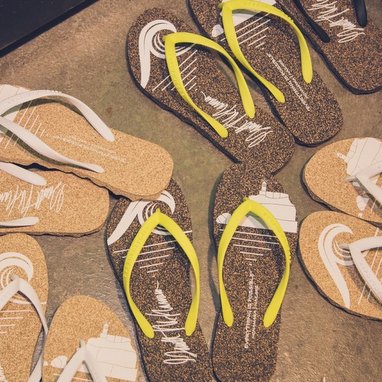 The Hawaiian surfer is the new ambassador of ASPORTUGUESAS. McNamara teamed up with the Portuguese flip-flops' brand and has already booked two collections per year, entitled "Everything is possible"
"It's no secret that Portugal has the greatest waves, the best coastal areas, great food and fantastic people. Now, with the new flip-flops line the world will know that Portugal also has the most natural and sustainable material, completely versatile, provided by Corticeira Amorim".
Besides of promotion of the made in Portugal label and cork, this collaboration has as goal to support a social cause. For each pair sold 1 euro will go to the surf school created by Garrett McNamara, in Nazaré, which aims to teach surf to orphan children: "I feel extremely honored to, through Ecochic, join forces with a company that's environmentally friendly, to have the opportunity of creating a line of elegant flip-flops, in which a part of the revenue going to Nazaré's orphans".
For the brand's founder, "it is, above all, a great privilege to have Garrett McNamara as an ambassador of ASPORTUGUESAS, a brand he identifies himself with, that uses a material that represents Portugal at its best, that is 100% natural and, as he refers, a footwear option that is simultaneously versatile and sophisticated". Pedro Abrantes continues: "it is also very gratifying for me, as a leader of this recent project, to have the possibility to embrace a project with social responsibility that allows to provide happy moments to children in our country".
Ecochic is a startup raised at Amorim Cork Ventures that leads the production of cork flip-flops, with the brand ASPORTUGUESAS, and that, since 2017, has Kyaia Group as shareholder.

For more information about ASPORTUGUESAS please refer to the
brand's website
.