Kenneth Cole announces EMEA distribution deal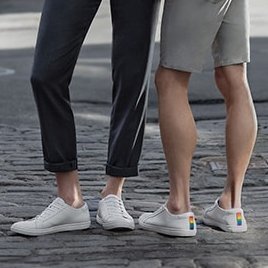 The American-based designer announced a regional footwear agreement with UK-based GBG Europe Footwear and Accessories Limited. GBG will grow Kenneth Cole's recognition in the selected territories
In an effort to continue global expansion of the brand, Kenneth Cole Productions, Inc. has signed a 4-year agreement with GBG Europe Footwear and Accessories Limited, a United Kingdom corporation, to distribute men's and women's footwear and to manufacture and distribute women's handbags in select countries across Europe, Middle East, and Africa.

The distribution of footwear from the globally recognized Kenneth Cole brand in select cities including London, Paris, Milan, and Berlin, is slated for Fall 2018. There will be a focus on Men's and Women's Kenneth Cole New York and Reaction Kenneth Cole footwear and Women's Gentle Souls footwear. Women's handbags will be manufactured and distributed under the Kenneth Cole New York and Reaction Kenneth Cole labels and will launch for Spring 2019. The agreement also gives GBG Europe Footwear and Accessories Limited the rights to manufacture and distribute briefcases, luggage, portfolios, backpacks, and small leather goods.

"We are looking forward to having a central European based partner who specializes in footwear and is able to offer best in class service to department stores and independent retailers in these regions", commented Marc Schneider, Kenneth Cole Productions Inc.'s Chief Executive Officer, adding: "We are excited about this partnership and the growth opportunities it affords us in these categories of our business."

"Kenneth Cole and his brand had defined the standard for New York style and social consciousness for more than three decades," said Mike Hiscock of Global Brands Group Holding Limited. "We believe that the Kenneth Cole brand has tremendous potential to resonate with consumers far beyond the levels it is currently reaching and we are excited to introduce the product to new customers in Europe, the Middle East, and Africa."

GBG will bring Kenneth Cole's modern footwear designs to the European, Middle Eastern, and African customer through all major retail channels including department stores, independent retailers, and ecommerce. Kenneth Cole Productions and GBG are working with some of Europe's top retailers for a market launch in Fall 2018. GBG is part of the Fung Group and manages licensing for several dozen brands including Under Armour, Kenneth Cole, Juicy Couture, Kate Spade New York, Katy Perry, Fiorelli and All Saints.