Pitti Uomo closes with record-breaking edition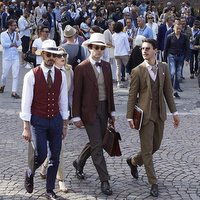 An increase in the flow of buyers from Germany, United Kingdom, China, Japan, United States, Russia, and all the Eastern markets was announced at the closing of the 90th edition of the event

The latest Pitti Uomo, which took place in Florence between the 14th and the 17th of June, was attended by 20 500 buyers, of which 8 400 from abroad, with over 30 000 visitors in total.

According to official figures, the number of buyers was up 2.5% compared to the June 2015 edition, which was already a new record with some of the most significant increases in recent seasons. In total, 20 500 buyers were present, of which around 8 400 came from outside Italy. The overall total number of visitors exceeded the 30 000 mark.

Foreign attendance was boosted by very positive performances from United Kingdom (+18%), China (+14%), Germany (+5%); Belgium (+7%); Japan (+3.5%) and United States (+3%). Russia (+8%) made a comforting recovery after a few difficult seasons and there was a "resounding" increase for Eastern Europe as a whole and the Baltic States, as well as excellent results for Portugal, Denmark, Mexico, Australia, South Africa, Singapore, Malaysia and Taiwan.

There was, however, a significant dip in the figures for France, probably due to the current wave of strikes, cancellation of numerous flights and the UEFA Euro 2016.

Italy continued its path to recovery, registering a 3% increase in buyers with attendance figures that are gradually returning to what they were a few years ago.

Germany once again led the top 20 foreign markets with 997 buyers followed by Japan (847), Spain (660), United Kingdom (632), China (505), Holland (450), France (388), Turkey (374), Switzerland (296), Belgium (293), United States (285), South Korea (230), Russia (199), Austria (179), Portugal (164), Denmark (134), Sweden (130), Greece (121), Romania (76) and Norway (76).

"Pitti Uomo celebrated its 90th edition in the best possible way", stated Raffaello Napoleone, Pitti Immagine's CEO, adding: "it was a sizzling event with lots of new ideas bubbling among the stands and many new menswear projects were launched onto the international scene from the Fortezza da Basso".