World Footwear Yearbook: 2015 edition is now available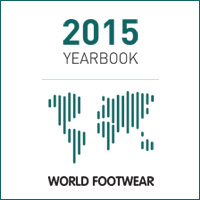 During a press conference held on the 30th of July in Düsseldorf at the GDS trade fair, APICCAPS revealed the most recent figures for the 2014 worldwide footwear industry
The World Footwear project, developed by APICCAPS, the Portuguese Footwear, Components and Leather Goods Manufacturers' Association, in partnership with GDS presented the fifth edition of its Yearbook.
The World Footwear Yearbook offers a comprehensive picture of the footwear industry worldwide, focusing on the main trends at international trade, consumption and production. Global information is enriched by dozens of individual country profiles, with a new record of 79 territories under analysis.
For 2014, the World Footwear Yearbook revealed that footwear production increased by 8% setting new volume and value records. The geographical structure of the industry remained broadly unchanged from previous years, with China being the indisputable footwear manufacturer leader, producing almost 2 out of every 3 pairs sold in the world.
On the whole, in 2014, Asia was the source of 88% of the footwear produced worldwide and 6 out of the 10 main footwear producers were Asian countries.
To get more detailed information about the footwear industry in 2014 buy your copy of the World Footwear Yearbook following
this link to access the store
.