US based Crocs announced slight increase for its 2013 revenue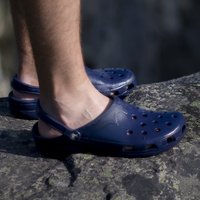 Crocs Inc. announced 1.6% revenue increase for the fourth quarter in 2013 and 6.2% growth for the full year. On a constant currency basis, revenue increasead 4.1% in the fourth quarter, reaching 8.8% growth for the full year.

The company reported a net loss of 0.76 USD and net income of 0.12 USD per diluted share on a GAAP (generally accepted accounting principles) basis in 2013 fourth quarter and the full year, respectively. Excluding certain non-recurring, unusual and infrequent charges, the company reported a non-GAAP net loss of 0.20 USD and non-GAAP net income of 0.82 USD per diluted share in the 2013 fourth quarter and the full year, respectively (impacted by the write-off of obsolete inventory).
John McCarvel, President and Chief Executive Officer, declared "We delivered balanced performance in the fourth quarter despite the challenging retail environment in North America. On a constant currency basis, 2013 revenue grew (…) driven by a solid 7% increase in wholesale revenue, with particular strength in Europe, as well as our global retail expansion."
The company generated net income of 10.4 million USD or 0.12 USD per diluted share for the full year 2013, compared with net income of 131.3 million USD or 1.44 USD per diluted share in 2012.
"We've made tremendous progress as a company over the past 10 years – from a one-season, one-shoe, and one-country brand to a diversified, four-season global footwear leader that is on solid financial footing, and we believe our business is well positioned to succeed going forward.", said McCarvel, who then reflected on the investment made by private equity firm Blackstone Group LP in the company. By the end of December 2013 it was announced that Blackstone was going to make a 200 million USD investment, resulting in a 13% stake in the shoe company attributed to the private equity firm. It was said at the time that in exchange for the 200 million USD, Blackstone would receive preferred stock (that can convert to common stock in three years' time and if certain conditions are met) and two board seats. The preferred stock will have a 6% cash dividend rate and is convertible into shares of common stock at a conversion price of 14.50 USD per share. As McCarvel said: "The recent investment in Crocs by Blackstone is a vote of confidence in our company and our brand, and we believe Crocs will benefit from Blackstone's financial, consumer, retail and brand-building experience."
Thomas J. Smach,
Crocs
Chairman of the Board, commented, "As we look forward, 2014 will be a significant transition period for the company." As already made public, Mr. McCarvel will retire as President, Chief Executive Officer and Board Member by the 30th April 2014, so the company is in the process of recruiting a new CEO, who will have to work with a reconstituted board to outline the company' strategic plans, prioritizing earnings over top-line growth. According to the statement issued recently, the company will focus on improving financial performance, particularly in the Americas and Japan, as well as enhancing their global retail execution, moderating the pace of investment in new retail stores and consolidating existing ones. All taken into account, for the first quarter of 2014, the company expects revenue between 305 million USD and 315 million USD.
Crocs Inc
., known for its colorful clogs, is an important player in the casual footwear market, established in 2002. According to information shared by the company, their shoes, made out of a proprietary closed-cell resin called Croslite, are offered in more than 300 four-season footwear styles and since the company's inception 200 million pairs of shoes were sold in more than 90 countries around the world.
For more information about Crocs Inc. please visit the
company's website
.