UGG focus on counterfeit protection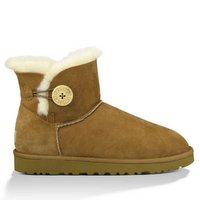 In preparation for the holiday season the brand launched social media accounts dedicated to counterfeit awareness and education
The UGG brand, a division of Deckers Brands, has launched dedicated anti-counterfeit social media accounts on Facebook and Twitter just in time for the holiday season. The UGG brand assumes to be committed to protecting shoppers from purchasing counterfeit UGG products that are being sold as genuine. In addition to "supporting consumer education and providing easy-to-access verification tools" the brand continues to work with worldwide customs authorities and law enforcement agencies to find and stop the shipment and sale of counterfeit goods".
The newly created
UGG counterfeit Facebook page
features videos and photos that help consumers identify counterfeit product and alert them to popular scams. In addition, the brand also answers questions from customers and offers support with identifying sites as counterfeit or genuine.
Thousands of counterfeit websites advertise their fake UGG brand products using wording such as "outlet uggs," "discount uggs," or "uggs black friday." Online auctions and forums are also common outlets counterfeiters use to sell fake products. Offline, counterfeiters may operate retail stores, flea market booths or on city street stalls in the hope of scamming unsuspecting customers into purchasing fake products.
According to the brand, the simplest way for consumers to guarantee their purchase is authentic is to check the list of UGG authorized stores and authorized online retailers at
www.uggaustralia.com
. Additionally, UGG has compiled an online gallery highlighting authentic and counterfeit product side-by-side, pointing out the differences and calling out tips on recognizing real versus fake UGG products.
UGG has also taken legal action against 60 000 websites selling counterfeit products. The brand aims to help consumers who have already purchased counterfeit products unknowingly and are looking for a refund, and have
created a list of instructions to be followed by consumers
with the necessary steps to get a refund from their bank or credit card company.