The North Face virtual reality experience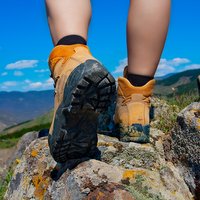 Arriving in selected retail locations, beginning today in Chicago, the content will take viewers to the Yosemite National Park (California) and Moab (Utah) alongside athletes Cedar Wright and Sam Elias
"The North Face and our athletes are always looking to bring people into our expeditions and spark people's interest in getting outdoors," commented Aaron Carpenter, The North Face Vice President of Marketing, adding: "The North Face VR transports people to Yosemite and Moab to see the beauty and be inspired to go see it for themselves."
The North Face VR allows consumers to step into in-store entertainment, providing 360-degree 3D video and audio experiences giving viewers realistic, high-quality sense of "presence" inside the Moab desert and one of US' greatest national parks, the Yosemite.
Captured with Jaunt's proprietary 360 degree, stereoscopic 3D cameras and advanced 3D sound-field microphones, the content places viewers right in the middle of the scenes with complete freedom to look around in any direction and experience every moment as if they were actually there.
"Working with The North Face to capture the remarkable beauty of our national parks has been one of our favorite and most powerful projects to date," stated Jens Christensen, CEO of Jaunt, adding: "We are creating an entirely new medium for entertainment and the content we've captured in Yosemite and Moab are perfect examples of just how transformative cinematic virtual reality can be."
Camp4 Collective, a group of athletes and filmmakers, worked on location with The North Face and Jaunt to produce the content.
The North Face VR experience debuts at select The North Face retail locations, starting in Chicago and then rolling out to New York and San Francisco. The North Face cinematic VR debut will be available for download by the public starting today as well. (
jauntvr.com/content
).
The North Face, founded in 1966, is a division of VF Outdoor, Inc and specialises in outdoor equipment for athletes; their products are available at premium and specialty retail sporting goods stores globally.
For more information about The North Face please refer to
www.thenorthface.com
.