The most expensive handbag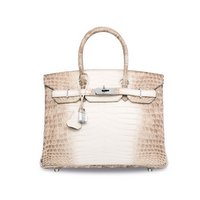 Diamond-encrusted Hermes Birkin was sold for over 300 thousand US dollars
A matte white Diamond Himalaya Niloticus crocodile diamond Birkin 30 with 18k white gold and diamond hardware, was sold by a private Asian collector at an auction in Hong Kong earlier in the week. The bag was sold for 300 168 US dollars, making it the most expensive handbag ever sold at an auction.

"The diamond pieces created by Hermes are exceptional, but none are nearly as iconic as the Himalaya," Christie's said, adding: "It is believed that only one or two of the Diamond Himalayas are produced each year, globally, making it one of the lowest production runs for handbags."

This new record follows last year's 222 000 US dollars sale of a fuchsia diamond-studded Hermes Birkin, further contributing to the bag's celebrated fashion status.

Rarity and exclusivity, as well as the quality of leather and craftsmanship, help to explain why this is the most valuable bag in the world.