The most expensive ballet flats in the world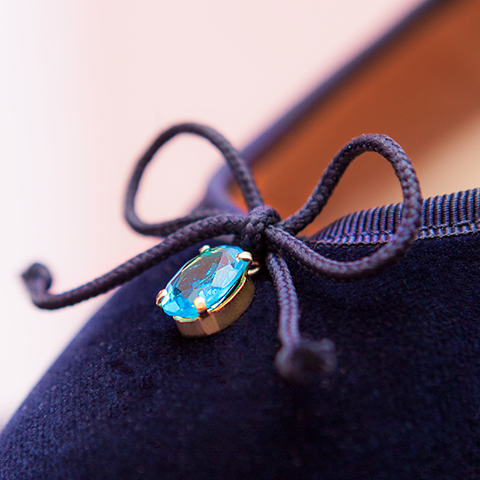 The Blue Persian Salt model is part of the new collection 1001 Nights by Josefinas, a Portuguese brand of ballet flats
Everything started with a dream. Filipa Júlio, an architect by trade, wanted to create elegant casual footwear to pay a tribute to her past as a ballerina while honoring the future of modern Portuguese women. Filipa's original idea quickly developed towards unique ballet flats aimed to give women the sense of elegance and confidence. Filipa Júlio went to São João da Madeira, a Portuguese region with a profound tradition and intense expertise within the footwear industry, where she met two shoemakers who partnered with her.
After a year researching materials, testing and trying out different options, the Josefinas ballet flats were created with high quality leather (including for the soles) and top quality grosgrain. All details were taken into consideration, even the cord that tightens the flats. In fact, a unique feature of the Josefinas it's their adjustable tie, allowing a tighter or looser fit, depending on the needs of each foot. According to the brand: "The different types of leather used were selected taking into account the need for flexible materials that were capable of adapting to the foot's elasticity while simultaneously allowing it to breathe".
In the new collection,
1001 Nights
, whose moto is
The most luxurious adventure yet
, one particular model is grabbing everyone's attention. With soles and insoles made of natural leather, the
Blue Persian Salt
model is adorned with a beautiful piece of fine jewelry, handmade from Gold and Blue Topazes by master Portuguese jewelers. Inspired by the rareness and beauty of this mineral, only found in Iran, each pair of
Blue Persian Salt
travels in a special box as if it was a piece of fine jewellery and cost 3 369 euros.
The new line also includes the Babylon (265 euros), the Jordan (289 euros) and the Persia (219 euros) models.
For more information about Josefinas please refer to the
brand's website
.