The final remarks of the UITIC Congress in Porto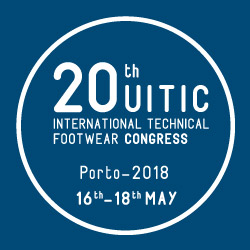 For one week, over 540 footwear professionals, coming from 33 countries, gathered in Porto, in a record participation. More than 20 companies visited and more than 30 speakers framed the discussions over the future of the worldwide footwear industry

An incredible Congress
"It was an incredible Congress", stated Yves Morin, President of UITIC - International Union of Shoe Industry Technicians, adding: "The 20th UITIC Congress was incredible due to the record number of delegates, fantastic visits to companies, the high level of panels, speeches and presentations". In general terms, "the congress has fully achieved its goals of being the international Think Tank of the footwear industry."
Portugal is in a privileged position
At the opening ceremony, the Secretary of State for the Portuguese Industry underlined that "Portugal is in a privileged position. It is an innovative and exports-oriented industry: more than 95% of its production is destined for foreign markets and in 2017 the Portuguese footwear industry exported more than 80 million pairs of footwear". According to Ana Teresa Lehmann, the theme of the Congress - From Fashion to Factory: A New Technological Age – "reflects the role of technology as the driving force of the economy and its impact on the global industries. At this level, the Portuguese footwear industry, known as the Sexiest Industry in Europe, is a model of competitiveness. It is also one of the most pressing examples of modernization and innovation allied to tradition."

Three days of visits to factories
Over three days, more than 20 Portuguese footwear companies were visited by participants of the Congress: "When I suggested the theme of this 20th Congress - From Fashion to Factory: A New Technological Age, I was thinking about Portugal. Portugal was the right place to discuss this topic, because this is one of the few countries in the world where we can simultaneously find the entire production chain, with very good know-how and a deep knowledge of fashion and design", concluded Yves Morin.




More information about the companies visited

HERE

.



FOOTure 4.0: Roadmap for the Digital Economy
"The 20th UITIC Congress surpassed all expectations", commented Luís Onofre, President of APICCAPS - Portuguese Footwear Association. Onofre highlighted the importance of the Portuguese Footwear Cluster Roadmap for the Digital Economy, the FOOTure 4.0. This roadmap, recently presented by the Portuguese footwear industry foresees an investment of 50 million euros by 2020, seeks to exploit the opportunities created by Industry 4.0 and defines four strategic priorities and fourteen measures, including: create new forms of customer interaction in a digital context; improve flexibility, customer response time, business intelligence and sustainability; qualify the industry for the Industry 4.0 principles, making it more dynamic, innovative and capable of creating new business; improve the intelligence and image of the sector.