Rutz, walk in cork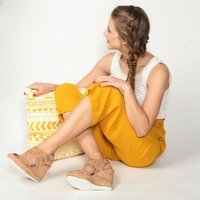 A brand born out of a passion for women's footwear and aiming to unite two of Portugal's most well-known industries: Footwear and Cork
Rutz's concept is based on a strong desire to go further and innovate, with the uniqueness of its products linked to a combination of two important elements: design and color.
The brand name recalls the Portuguese "roots", the origins and traditions which inspire the collections every new season. According to the brand, the name also points to the future and to the paths that need to be followed towards a better future: the eco-friendly choice of materials and the concern with lightness and comfort.
Rutz intends to bring together diverse concepts, such as past and future, tradition and modernity, but all linked together, in what they refer as the "rurbanism" trend.
The brand's proposal is simple: "to make women, men & kids fall in love with this reinvention of cork, by introducing color and design in an urban, sexy, young and sophisticated footwear!". That said, the brand's motto is naturally let's walk in cork!
For more information about Rutz please refer to the
brand's website
.