New Balance new 3D-printed running shoe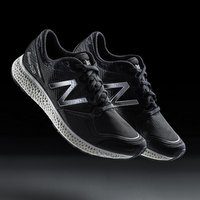 The sneakers result form a partnership between the US-based footwear giant and 3D printing specialists 3D Systems
Through an exclusive collaboration with 3D Systems and their newly developed elastomeric powder, DuraForm® Flex TPU, New Balance was able to make significant advancements in the performance of printed parts for running shoes.

The Massachusetts-based footwear company presented new midsoles that leverage the benefits of 3D printing and breakthroughs in materials science to achieve an optimal balance of flexibility, strength, weight and durability. This limited edition of running shoe will launch first in Boston in April 2016 and then in select New Balance retail locations around the globe. The shoes will also be on display and in use by employees in the 3D Systems booth at the 2016 Consumer Electronics Show (CES) in January.

The latest designs of the 3D-printed midsole are based on underfoot pressure data from heel strikers with more cushioning elements in areas of higher average pressure. For midsole production, selective laser sintering (SLS), a process which converts new powder materials into solid cross-sections, layer by layer, using a laser was used. According to New Balance, DuraForm® Flex TPU powder gives the resulting parts a previously unavailable combination of strength and elasticity that is ideal for performance running shoes.

"This project represents an unprecedented technical collaboration in footwear", stated Sean Murphy New Balance Senior Manager of Innovation and Engineering, adding: "To deliver this level of performance with a 3D-printed component, we paired experts in running and biomechanics with leaders in plastics engineering, material development and generative design. These are the types of collaborations that will drive footwear design and manufacturing in the future".