Manchester United partners with HEROES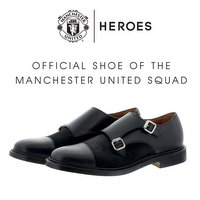 The England-based football club has announced a multi-year global partnership with luxury designer footwear brand HEROES S.R.L.
As part of the agreement, HEROES will exclusively produce a collection of high-quality lifestyle Manchester United shoes, aimed at the club's 659 million global followers.

In addition to this, Manchester United's first-team players and coaches will wear HEROES formal shoes when on official club duty.

The shoes are already available for pre-ordered on www.shoptheheroes.com and a full range of styles will be released at the end of November.

Manchester United Group Managing Director Richard Arnold commented: "Our partnership with HEROES will not only provide our first-team squad with well-designed and well-made formal shoes, it will also allow our loyal fan base to be included in that team spirit by wearing the same brand worn by our players.

Alfredo D'Acchioli, Chairman of the supervisory board of Da Vinci Luxury AG, comments: "Our partnership with Manchester United is a dream come true and we are thrilled to be working with the world-renowned sports club. This is the first partnership of its kind for HEROES and we are confident that Manchester United's enthusiastic fans will be the ideal audience for the launch of our HEROES brand. We look forward to huge success."