Louboutin announces Maleficent-inspired heels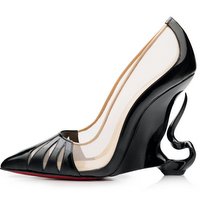 The shoes results from a partnership of the famous shoe designer Christian Louboutin and Angelina Jolie, and have been modeled by the actress in various red carpets


A limited edition creation of only 96 pairs of shoes called Malangeli will hit the stores in October. Malangeli, is the junction of two worlds: Maleficent, the Disney character, and Angelina, the actress that gave life to the animated villain. The shoe features a sculpted curled heel that deviates from the wedge as a trail of smoke. The structure of the shoe is in leather, and the base is in nude mesh. There are only two options for colors: red and black.

The design inspired by Maleficent resulted in "shoes which contain the darkness, beauty and fascinating mysticism that won both children and adults".

Available from the 20th October through pre-order at select Christian Louboutin flagship stores, including the New York City and West Hollywood stores, the shoes will cost nearly 1 500 US dollars. Profits resulting from the sales will benefit the SOS Children's Villages, an NGO supported by the American actress which provides stable homes for orphaned and abandoned children in 133 countries.