inov-8 launches world's first graphene shoes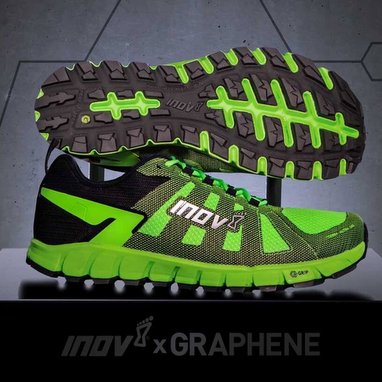 The sports shoes, developed in collaboration with the University of Manchester, are reportedly 50% more resistant to wear than the corresponding industry standard
British athletic footwear company inov-8 has just launched the first graphene-infused shoes in the world. The collection, featuring trail running and crossfit shoes, is called the G-Series and has been realized in collaboration with the University of Manchester, which currently hosts a group of over 300 experts working on graphene-enhanced prototype projects.
Graphene is produced from graphite, which was first mined in the Lake District of Northern England about 450 years ago. Today, Lake District is also home of inov-8's headquarters. Graphene is the thinnest material on Earth and is 200 times stronger than steel. It was first isolated at the University of Manchester in 2004 and won the 2010 Nobel Prize in Physics. The material has proved to be adaptable to a variety of uses, from sportscars, to medical devices and airplanes.
Shoes from the G-Series are provided of graphene-infused rubber outsoles. This material is "extraordinarily flexible, and can be bent, twisted, folded and stretched without incurring any damage", according to Dr Aravind Vijayaraghavan, Reader in Nanomaterials at the University of Manchester, and "when added to the rubber used in inov-8's G-Series shoes, graphene imparts all its properties, including its strength. Our unique formulation makes these outsoles 50% stronger, 50% more stretchy and 50% more resistant to wear than the corresponding industry standard rubber without graphene."
Testing showed that these innovative outsoles last more than 1 000 miles. On the one hand this is ground-breaking from runners' perspective, seeing as they are usually advised to replace their shoes every 300 to 500 miles. On the other hand, the increased lifespan of the shoes is likely to help reduce excessive consumption and waste.
The shoes were developed with the end customers in mind, as explained by Michael Price, inov-8 Product and Marketing Director: "Over the last 18 months we have worked with the National Graphene Institute at The University of Manchester to bring the world's toughest grip to the sports footwear market. Prior to this innovation, off-road runners and fitness athletes had to choose between sticky rubber that works well in wet/sweaty conditions yet quickly wears down, or a more durable, harder rubber that is not so grippy. Thanks to intensive research, hundreds of prototypes and thousands of hours of testing in the field and laboratory, athletes now no longer need to compromise."
The G-Series is composed of three models, each designed to meet the needs of a specific type of athlete. The Mudclaw G 260 is intended for mud and obstacle course racing, the Terraultra G 260 is a long-distance train shoe, and, finally, the F-Lite G 290 is best suited for crossfit. The shoes are available for pre-order since June 22nd and will be on sale from the 12th of July. The Mudclaw and the Terraultra retail for 150 US dollars, whereas the F-Lite can be purchased for 160 US dollars.