Havaianas presents wedding flip flops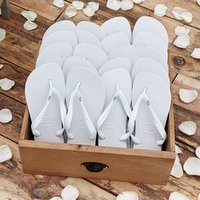 The Brazil-based brand, recognized internationally by its rubber flip flops, has launched a collection of slippers for grooms and guests
In Brazil there is a tradition of offering slippers to guests in a wedding, so they can dance and party all night, resting the feet after long hours of standing.

How did Havainas, the famous rubber slippers brand, got involved in this? According to the internationally famous brand, it all began with the marriage of two famous TV presenters 10 years ago. They offered Havaianas to their guests and since then the brand has been the "number one choice to fill the dance floors of Brazilian weddings".

The brand has created two special models exclusively for weddings, Havaianas Top Marriage (available for men and women) and Havaianas Slim (model available only for women). 3 exclusive pins (Car, I love you, Couple) can be used to personalize the flip flop.

Now, after a huge success in Brazil, the brand is expanding this line of business to Europe. Havaianas wedding are available for purchase only through the online store and the minimum order is 96 pairs (always in multiples of 12). The Top model costs 10 euros and the Slim one 12 euros.