Exhibition shows footwear designed for people with cerebral palsy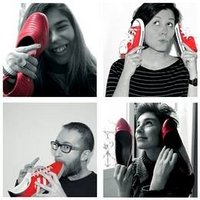 In total there are 12 prototypes of shoes, boots and sneakers, all designed bearing in mind the needs of people with cerebral palsy, and incorporating the concerns with the aesthetics
The prototypes now in exhibition are the result of a challenge presented at the University of Porto to its students enrolled at the Industrial and Product Design Masters. And the challenge was as simple as this: each student should focus on drawing shoes that they would like to wear themselves, but bearing in mind that they would then be suitable for people with cerebral palsy. The focus was on the aesthetic side of the product, something particular difficult to do when developing shoes for people with special needs. The team behind the project believed that, if there is a stigma related to adapted footwear, then designers are well placed to help solve the problem.

The project was developed by a multidisciplinary team, coordinated by Ligia Lopes (Faculty of Engineering of Porto University) in co-supervision with fellow designer Matt Dexter (Sheffield Hallam University, UK) and counted with the special support of singer Rita Red Shoes as godmother.

A possible future development of prototypes into the production and marketing phases is a possibility under analysis. One solution may be to market the existing models for the general public - as they were designed for this purpose – and then finance the production of footwear for people with cerebral palsy.

12 products are currently in exhibition as part of the Rita.Red.Shoes cerebralpalsy.designproject show at the Rehabilitation Center of the Cerebral Palsy Association of Coimbra (APCC). Exhibition is open for visitors until the end of the month.