Designer creates 3D printed heels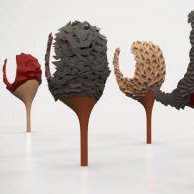 The heels designed by Katrien Herdewyn are detachable from the main body and represent the 7 deadly sins


Katrien Herdewyn
, an electrical engineering, material sciences and nanotechnology graduate from the University of Leuven, currently working on a PhD in Physics and studying shoe design at the Academy of Fine Arts, Sint-Niklaas (SASK) has produced a new shoe visually captivating shoe collection. The concept revolves around a basic, detachable 3D printed heel, adorned by different shaped particles including tongues, teeth, fans and leaves, to depict the 7 sins. The detachable heels create 7 different style options to choose from.
Each piece needed to be merged together into a large mesh, which required a lot of stitching before the actual printing took place. Replicators, surface particle generators and prototype sources were used to create a rough layout. At that point, the particles were frozen into place and then hand scaled, before finally being placed correctly onto the underlying surface. A base model heel was created first, with the ability to attach and fit onto different shoe bodies, and then from it the 7 different shaped heels were made.
The sinful shoe collection is not the first venture of the Belgian designer into the 3D printing for footwear. Her collection titled Nano Ft. was nominated for the Muuse x Vogue Talents – Young Vision Award for Accessories and is currently at the final running.

Image credits: http://visualize-to.be/project/62