Centenário celebrates its 75th anniversary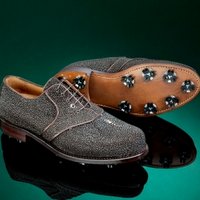 Fábrica de Calçado Centenário was founded in 1941, in Cucujães (in the north of Portugal). Its Managing Director, Domingos Ferreira, has just received a public recognition for his professionalism and dedication to the industry and the community
Centenário started its operations in the forties as a footwear factory with an 100% handmade manufacturing process and was mostly focused on the domestic market. 75 years passed, and now Centenário is a producer of men's footwear of superior quality, exporting 98% of its production.

In 1984, the acquisition of new equipment and the expansion of its facilities has allowed the company to diversify its destination markets, and reduce the importance of the Portuguese market to only 50% of its total sales. Almost two decades later, in 2003, the company was already exporting 90% of its production to the European markets and felt a new urge to expand the facilities.

In 2005 a new phase in the development of Centenário was initiated with the implementation of the Goodyear system, and the company started manufacturing shoes for golf, reaching out to a niche market with huge growth potential given the significant increase this sport took worldwide.

All the golf models produced by Centenário have the name of the customer engraved in the insole and may be fully customized. Detail, exclusivity and charm are the key elements used to reach the more demanding consumers who claim eccentricity even in the practice of sport.

At the moment there is even interest of an international brand to have its golf shoes produced by Centenário using exotic skins, such as crocodile and streak.

Centenário currently produces 134 000 pairs per year, exporting 98% of its production to China, Italy, Japan and Germany.

Domingos Ferreira, the company's Managing Director has been recently awarded by the Rotary Club of Oliveira de Azeméis. "It's very gratifying to know someone recognizes our work, whether professional activity, either in the dedication and care that I have played in the society through participation in various institutions", stated Domingos Ferreira. With a degree in Accounting Mr. Ferreira has started its activity professional in 1972 working for Calçado Belo (another footwear company) as a Managing Partner, where he remained until 1975. Since then he has developed its professional activity at Centenário. He is also a Director of APICCAPS, the Portuguese Footwear, Components and Leather Goods Manufacturers' Association.