Americans worried with tensions at US ports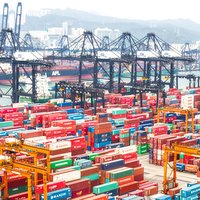 Matt Priest from the FDRA, Footwear Distributors and Retailers of America, is concerned with the impacts of a work stoppage at the West Coast ports, the key US entering points for footwear imports


West Coast dockworkers, represented by the International Longshore and Warehouse Union, have been without a contract since July. Negotiations with the Pacific Maritime Association (representing the management) were productive until autumn, when management accused the union of engaging in slowdown tactics. The claim was disputed, and tensions have escalated between the two parts. Now, some worry that this can result in ports lockout. Twelve years ago, in 2002, employers staged a lockout during 10 days, with the costs for the American economy reaching several billion US dollars.

Last Friday, several industry groups, representing agriculture, manufacturing, retailers, and other import/export operations sent a letter to the dockworkers' union and port terminal operators demanding an agreement. "As customers of your ports, and industries affected by their operations, our members desperately need this negotiation to be concluded and operations returned to normal levels of through-put", can be read in the document made public.

Companies and businesses are worried with the impacts of the uncertainty surrounding the negotiations and alerted to the consequences of a lacking understanding: "The stakes are extremely high and the uncertainty at the West Coast ports is causing great reputational and economic harm to our nation. Policymakers in Washington, DC cannot solve the myriad of issues surrounding these talks, but the competitive marketplace will respond if you continue on this current path."

Matt Priest, President of the Footwear Distributors and Retailers of America expressed his concern about the impacts of possible disruption at the West Coast ports for the footwear industry. "A catastrophe beyond belief" for an industry that imports most of its products through the West Coast ports. A critical period for the US footwear industry according to Mr Priest, as the sector is building up inventory for the Easter period. The FDRA stated that the diversion of the cargo to enter the country via alternative gateways is not ideal, especially through the East Coast ports, as these do not have the capacity of West Coast ports.

The Port of Los Angeles and the Port of Long Beach are the two busiest container ports in the United States, and act as a major gateway for US–Asian trade. Estimates indicate that two thirds of the footwear imports entering the country use these two points of access.

According to the World Footwear Yearbook, the US are the largest importer of footwear, with a share of over 20% in 2013, and more than 2.3 million pairs of shoes entering the country. The same source estimates that China is the main supplier of footwear, responsible for more than three quarters of all footwear imports.

Official statistics indicated that 24.6 billion US dollars' worth of footwear already entered the US in the period between January and November with 85% of that coming from 3 Asian countries: 66% from China, 14% from Vietnam and 5% from Indonesia.