Webinar GreenShoes4all: Ecodesign, Environmental Footprint Calculation and Recycling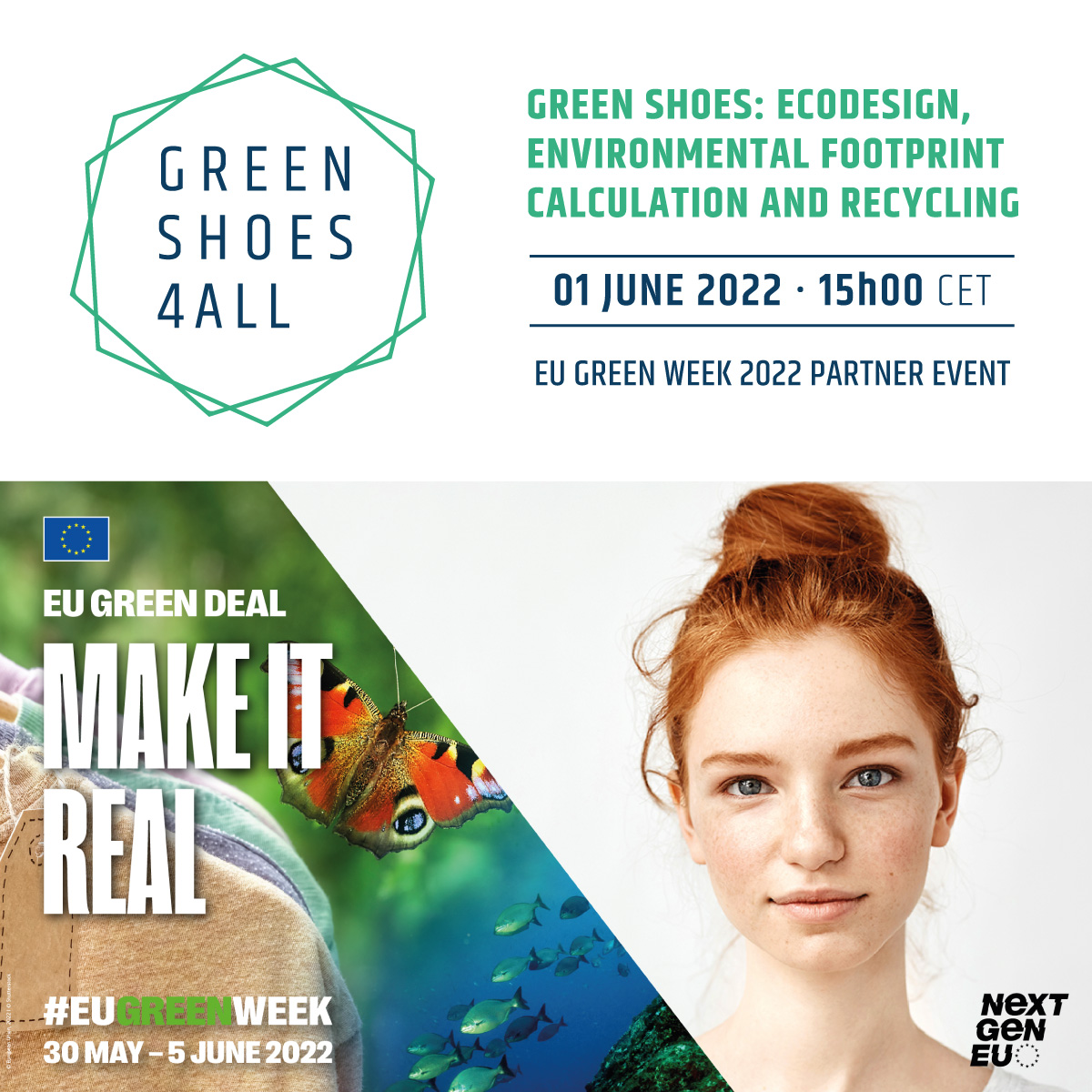 This event is part of the European Green Week 2022, named EU Green Deal - Make it Real. A week that aims to bring together and promote collaboration between the parties and citizens, to contribute to an environment with zero waste and no toxic substances
The Portuguese Footwear Technological Centre (CTCP) and the partners of the LIFE's project GreenShoes4All, funded by the LIFE program, will promote the international webinar: GreenShoes4all: Ecodesign, Environmental Footprint Calculation and Recycling next week.

The Webinar dedicated to the Footwear industry will take place on the 1st of June 2022, at 15:00 CET and will be held in English. During the event, experts and representatives of companies from various countries will make their presentations, having in common the commitment to the transition of the Footwear Cluster industry towards sustainability, promoting quality and competitiveness.


The following topics will be addressed:
- Methodology for measuring the environmental footprint of footwear
- Ecodesign and Circular Strategies to reduce the environmental footprint of footwear
- Recycling of post-consumer materials
- Zero pollution control / and use of critical substances

- Examples of polymer recycling and high-quality products
Participation in the event is free, but registration is required - Link
HERE
.
GreenShoes4All project
A growing number of footwear companies are rethinking their business models and creating innovative and attractive products through efficient processes and materials that take environmental challenges and resource efficiency into account. In addition to its positive impact on the planet, sustainability also gives footwear companies a competitive edge and responds to increasing consumer efforts to contribute to reducing the environmental impact of their products. That's why the GreenShoes4All project (
greenshoes4all
) is being developed, to support companies in moving towards greener production.
For more information, contact the project promoters via email: greenshoes4all@ctcp.pt