Atlanta, specialists working with the footwear industry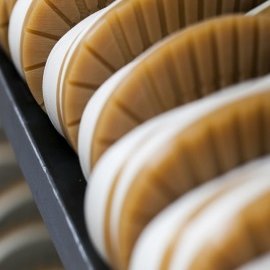 Based in the city of Lixa, in the north of Portugal, Atlanta, manufacturer of components for the footwear industry, works together with their clients to ensure they are actively contributing for their ultimate success
Specialists in developing and producing soles for the footwear industry, Atlanta - Componentes para Calçado, Lda. was founded in 1995 with just two machines and five employees. Its production capacity was 500 to 700 pairs of monochrome soles per day.
From early on, however, Atlanta stood out for its boldness and originality, the design of its proprietary collections, its wide-ranging assortment of sole models and its technical complexity and quality.
Currently, Atlanta has its own facilities with a floor space of around 8 000 m², with a production capacity of 20 000 pairs of monochrome, bicolour or tricolour soles per day in TPU, SBR, TR and prefabricated.

In each moment, the company aims to work together with their clients to ensure they are actively contributing to their success. To achieve such goal, Atlanta guarantees they are able to provide the footwear industry with solutions, materials and innovative technologies tailored to their needs. They combine such tailored solutions, with rigor, quality, creativity, design, innovation, flexibility and always respecting the environment, which lately results in lasting relationships.