UK designer presents shoe collection with hydraulic heels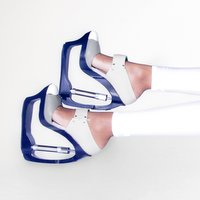 Silvia Fado created the Kinetic Traces line, whose shoes result from a combination of design, technology, engineering and hydraulics

UK designer Silvia Fado has a strong interest in architecture and a background in knitwear design, and recently completed a Master in Fashion Footwear at the London College of Fashion. Her new footwear collection resulted from her curiosity around the body movement and the way this interacts with fashion and sports footwear. Named Kinetic Traces, the collection features springs, rubber balls and pneumatic hydraulics all designed to absorb the impact of walking on sky high heels.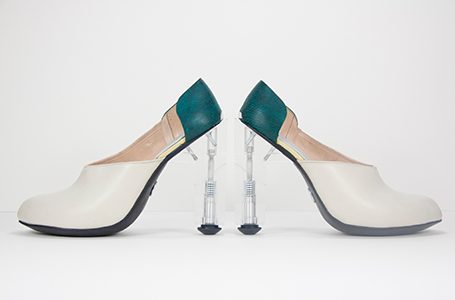 Silvia explains: "For my latest collection, Kinetic Traces, I was intrigued by the relationship between the movement of the body and fashion footwear design on the one hand, and high performance sports footwear and body movement on the other (..) I have been analyzing comfort elements in footwear, particularly impact absorption, shoe weight, traction (the relationship between shoe and surface) and upper durability. I sought to bring these concepts into the design of high-end women's high heels. The central concept of the project development was impact absorption, which was studied from a mechanical point of view because heels are structures which are affected by many different forces during the process of human motion. Working with an architect (Letizia Lopez) helped me to study the interacting forces in the structure of the high heeled shoe during movement. A collaboration with a photographer made possible to see the continuous movement broken down into individual parts as a diagram."
Collaboration between areas of expertise was the key element in this project, and went beyond design, architecture and photography, also involving engineering and manufacturing experts. Silvia added: "To realize the absorption function, I introduced an element of internal movement into these structures. I collaborated with an engineer partner to develop these mechanisms and an industrial partner to enable production of the final product to an appropriate standard for the target market. Impact absorption was developed using different mechanical methods not typically used in Fashion, adding features such as springs, rubber balls and, pneumatic hydraulics and metal rings. The metal ring function is a new system developed by the industrial partner (MECMAN S.L.) that I worked with, allowing regulation of the absorption effect depending on body weight."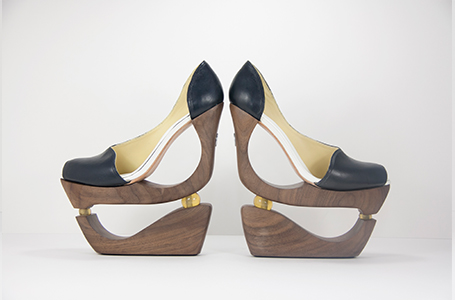 To develop a project that gathers so many different elements, varied methodologies were also required and they included traditional making (leather work, traditional machinery making, metal work, wood shaping) and rapid prototyping (3D milling machine, laser cutting and 3D printing).
Currently, the shoes are in the prototype phase, but a commercial line will be available by the end of the year. This will be the real test for Silvia Fado's hydraulic heels, who defends her inspiration sustaining it on architecture and functional design to contradict the more skeptical about the futuristic looking heels who argue the shoes look impractical.
For more information about the Kinetic Traces shoe line please visit the
website
.

Credits: Photography by Elixabete Lopez