Nike and La Liga renew partnership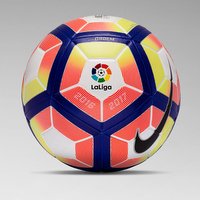 The two organizations confirmed the extension of their partnership until 2019
"We are delighted to extend this partnership, which began in the 1996–97 season. Nike is the leading brand in football and is continually innovating through the relationships we hold with the world's best players, clubs, federations and leagues", stated Lorenzo Moretti, Vice President and General Manager of Nike Football in Western Europe.

Javier Tebas, President of La Liga also commented: "La Liga is in a process of international expansion and partnering with Nike contributes to build our global prestige. It is a strategic partner with which we will work to develop our brand and football in general. We are very satisfied with this agreement."

The partnership with Nike will use La Liga's athletes, experience and resources to work on the development of football overseas, namely in the USA and China.

La Liga will play its games with the new Ordem 4 ball, featuring the "latest in proprietary aerodynamic technology and built to deliver accurate flight and consistent touch".