Macintosh with moderate sales growth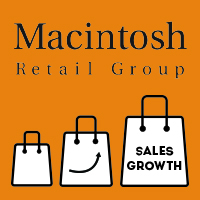 Lower pace of sales growth in the Fashion segment during quarter four (+2.0%) compared to the first three quarters (+7.6%) in a weak shoe market environment
The group operates in two segments: Fashion, which includes the sale of shoes, accessories, bags, clothing and sports items; and Living, operating in floor coverings, laminate, wall and window coverings and lighting, indoor and outdoor furniture, kitchen and home decoration items, household textiles and paint. Kwantum, operating in the Living sector, has 100 home department stores in the Netherlands and 9 in Belgium. The Fashion sector represents 78% of turnover, making it the largest sector within Macintosh. The Living segment includes roughly 900 stores across the Netherlands, Belgium, Luxembourg and he UK.
The group highlighted the impacts of a warm autumn in sales. The decline in the months of October and November reached 4.5% in the Netherlands and 2.8% in Belgium, while the UK market grew by 1.9%.
The segment Fashion NL strengthened its position in a declining market and increased its market share in 1.7 million euros (+2.2%), continuing the trend from the previous three quarters. Fashion UK sales were up by 3.9 million euros (+6.1%) while Fashion BeLux sales were down by 2.0 million euros (-5.7%). Online Fashion sales were 25.7% higher than in similar quarter in 2013.
Quarter four total sales reached 241.5 million euros, 186.4 million euros in fashion, growing by 2.0%, and 55.1 million euros in living, up by 18.7%. The online showed a more dynamic growth in sales,(+28.5% for total sales), especially in the living segment, which more than doubled its turnover (+112.5%).
A moderate increase on fashion sales during quarter four resulted mainly from a strong dynamic on the online channel (+25.7%), as sales in the offline channel were practically frozen (-0.2%).
According to market research quoted by Macintosh and referring up to and including November, the shoe markets in the Netherlands and Belgium declined by 2.1% and 0.7% respectively (GfK), while the UK shoe market grew by 1.4% (Kantar). Fashion outperformed the market in the Netherlands (+12.6%) and the UK (+4.3%), while performance in Belgium was in line with the market.
Yearly fashion NL sales were up by 19.8 million euros (+7.7%) despite a considerable fall in clothing sales at Scapino. Fashion UK sales were up by 20.0 million (+9.4%), Fashion BeLux saw a decline of 2.1 million euros (-1.4%) and Fashion other sales increased with 0.7 million euros.
Taken into consideration the complete financial year, online Fashion sales went up 42.6%, mainly thanks to Fashion NL that showed an increase with 41.8%, which is significantly better than the Dutch online market. Kwantum (Living) sales were up by 10.1 million (+5.6%) in a home decoration market witnessing some recovery since Q3.
Full Year sales increase was mainly generated by the online segment whose growth rates were above 20% (42.6% in Fashion and 23.4% in Living); a more moderate growth characterized the offline segment, with Fashion reaching a 3.4% growth rate and Living 5.3%.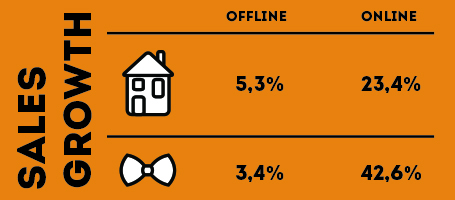 Kurt Staelens, CEO of Macintosh commented on the set of results now presented: "Growth of market share was a high priority for Fashion in 2014. Customer response to the renewal of our store formats was positive, which resulted in major increases in turnover in the first three quarters of the year. Just like the month of September, however, Q4, which traditionally is the period in which we realise a large part of our earnings for the year, brought the mildest fall/ winter weather ever. As a result fall and winter sales in Fashion were lower than expected, which led to higher promotional discounts and pressure on margins. These developments more than offset the increase in Fashion earnings up to August. Besides short-term action programmes, shop format and supply chain transformation programmes have been launched to further improve the operational performance of our Fashion activities."