Jose Monzonis Salvia, FICE's new General Manager, live on World Footwear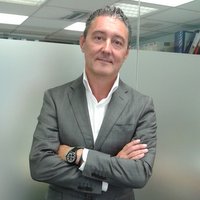 We took the opportunity to know a bit more about Jose Monzonis Salvia and to talk about his expectations for the footwear industry


An engineer by education, Mr. Jose Monzonis Salvia has always been involved in Economics, Industry and Energy. Since he finished his studies in the eighties he has been working in the Chemical & Plastics industry for UBE Industries (Japanese company), in REW - Renewable Energy and Water for a Spanish Corporation, ACCIONA Group, and for the Government of the Valencia State in the economics & financing, technology & industry and energy departments.

Working for the Government gave him the knowledge of industrial sectors as ceramics & furniture, refine & chemicals, cars industry & plastics, machinery & equipments or textiles & shoes and allowed him to interact with companies and business federations, including FICE.

With additional education in Human Resources, Engineering and Maintenance and Business Management, and an Executive MBA and a Corporate Financing Program from the IE Business School in Madrid, Jose Monzonis Salvia also teaches Strategy in Fundesem Business School in Alicante and has now joined one of the most important European Footwear Federations, FICE.

We took the opportunity to talk to him about the challenges of the new role and its expectations for the footwear of the footwear industry in Spain, in Europe and worldwide.

What are you expecting from your new role? What do you anticipate will be the main challenges of heading the Spanish footwear association?
Strategy means to anticipate, to adapt and also to act over the business environment to take advantages. In terms of modern academic theories and business practices, the difference is based on a continuous up-dating of knowledge and competences of individuals and organizations, strong back-up of the stakeholders to objectives & plans, and their own participation in the targets definition. From this point of view, no other leadership over the Footwear Industry could be taken by FICE in this very VUCA's environment (acronym of "volatile, uncertain, complex and ambiguous"), but from a "participative and openly minded executive role".
For example, all we talk about the incredible rise of the middle-class in new emerging economies in a very short time. Or about influence of the increasing changes in the industry value chain by ICT –including, but not limited to, supply chains, production management and customization, distribution channels and consumers. We also could discuss about the present consequences of the worldwide financial crisis since 2007/08 and, not given up, the financial risks of China's assets bubble –moving down its currency "from night to day", and pushing down the currencies of a lot of emerging economies based on raw materials. And perhaps still perceive with difficulty the fast changes in energy trades and prices based on hydraulic fracking, and on improving renewable energies, that are changing the "balance of power" in geopolitics.
This not only means being attentive to anticipate the challenges of the industry – where the CEC at European level has also to be used to access to the EU's officials - or planning initiatives to help companies and groups to adapt to the new coming competition - where all national and regional government support for SMEs should be always welcome - but always maintaining the confidence of the leading companies in new business opportunities based on common goals -and where shareholders and CEOs always have the "last word ".

In your view, what will be the main future challenges for the footwear sector during the next few years?
Increasing quality & healthy products at competitive prices, being closer to market's trends but also to consumers' needs, and adapting production to more eco-friendly processes and products for an increasing population in, more than ever, a significant number of developing countries. New factories around developing world will be opened, present markets will improve, new markets will appear, and new trade routes but also on-site production will co-exist by customization, time to market, and the digital technology revolution that is going on all around the World. It could perhaps be seen as a very far forthcoming context for Footwear, but evolution in every aspect of economy, technology, social trends or geopolitics, is changing faster than ever.
Focusing on European industry at the very short term, we could highlight: attracting skilled young people, promoting creativity, innovation and intellectual propriety, transforming companies through ICT, strengthening existing clusters and facilitating re-shoring with a better regulatory environment to create jobs, re-assuring raw materials supply chains or widening markets through free trade agreements with the US, Japan and others, as CEC are discussing in European forums.

What role do you think will be played by the European footwear companies in the near footwear? What should their strategies focus?
In general terms European companies have focused on market niches at the SME level following innovative and international strategies. SME will very probably have to pursue innovation, technology and branding as the main key factors to increase competitive advantages on selected market niches (so widening the gaps from competitors based on large production), at the time that improved Management, Workforce' skills and Supply Chain -attracting new talented & skillful workers, marketing & sales, production & supply chain managers, and innovative entrepreneurs.
Nevertheless differences among clusters and companies, should warn us about the risk of giving general opinions concerning strategies as these depend on very personal business decisions (e.g., other very respectful way to be on markets is also producing for the main European and North American luxury brands as very skillful subcontractors).

The Spanish footwear industry presented an outstanding set of results in 2014 with record exports. What should we expect from 2015? Will Spanish companies manage to consolidate this result?
The Spanish Footwear Industry is increasing both exports and production based on improved competitiveness, economic recovery and present currency; traditional European and North American markets are pulling of the goods production, and new export markets –opened since a decade ago when companies joined FICE to launch international strategies based on brands- are also improving for Spanish shoes. Certain domestic market recovery is also helping industry to growth (grow?).
We could say that strategy represents not less than a 50% of the success in footwear industry, because it depends on widening competitive advantages respect to thousands of strong, respectful international competitors. In anyway SME will also have to adapt to the coming years by improving marketing skills, supply chain and productivity, and business digitalization. All of them are going to be targeted by FICE.