Highlights from FFANY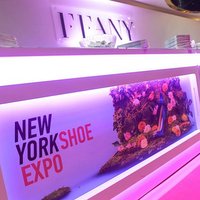 The latest edition of the New York event, which took place between the 7th and the 9th of June, rolled out a number of new initiatives and services, while showing the trends and new lines for Spring 17

The Show Wall, a section dedicated to immediate deliveries, encouraged retailers wishing to renovate the styles in store to snap an image of their favorite styles and call the corresponding phone number to get the wished shoes.

Also new to the show was the Fashionjobs.com job board, allowing companies the chance of finding members for theirs teams.

For the first time, FFANY also introduced Shoes4aCure, a four-day shoe sale benefiting breast cancer research. Shoppers, which included the general public and footwear industry professionals, had a selection of models from names such as DVF, Vince, Sam Edelman, amongst others, to choose from, at half off the suggested retail price.

The sale, located on the concourse level of the New York Hilton Midtown, raised thousands of dollars for nine beneficiary hospitals and research centers to fund a cure for breast cancer.

Phyllis Rein, EVP, FFANY.Rein said the sale will likely return during future shows, adding: "We see this as a great way for FFANY and the industry to continue to be able to give back."

Another charity event took place at the Bryant Park Grill in a ticketed party to raise funds for Two Ten to provide assistance to individuals in the footwear industry in need of cancer care and surgeries, while it offered the industry an opportunity to meet the next generation of footwear designers. The winning students of the Joseph C. Moore scholarship awards, Chelsea Fu, Alice Oggionni and Isabella Bowie were present to accept their awards and to network with other guests.