Perks, the reinterpretation of footwear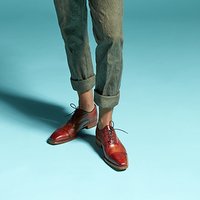 Drawing inspiration from the reinterpretation of the classic male shoe, Perks combines innovation and 75 years of experience and know how to design timeless and versatile shoes
Designed and produced at the Evereste shoe factory, in S. João da Madeira, the brand embodies the multidisciplinary and disruptive vision of four creative generations.
Comfort, superior quality and attention to detail are distinctive features of Perks shoes, products aimed at cosmopolitan men and women, who live in a hectic urban life, but look for strict resistant and durable shoes, offering sophistication and comfort all day long.
Perk's heritage and adaptability is present in twho new lines that are both distinct and complementary: Perks 1942 and Perks TODAY.
In celebration of its 75 years of tradition in the shoe making art, Perks 1942 has reinvented iconic male shoes. Designed for men and women who are confident and sophisticated, this exclusive line represents flawless, timeless elegance. Born at the hands of experienced artisan masters, Perks 1942 takes shape from a palette of natural, high quality leather, and models are available in the Oxford, Derby, Monk strap, Loafer, Dress, Chukka and Chelsea boots versions.
Perks TODAY is the most functional, contemporary segment of the brand. Trying to anticipate trends, this line uses irreverence and creativity to 'channel' the desire for self-affirmation at different times of daily life. Designed for the intense life of modern, urban men and women, the TODAY line is represented by unique, casual and sporty shoes.
For more information about Perks please refer to the
company's website
.