High heels for men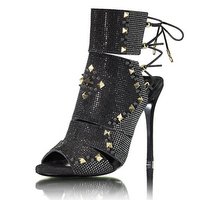 Luis Onofre, the famous footwear brand known by its stilleto shoes, is about to lauch a men's footwear collection
It is the news of the moment for the luxury brand from Portugal. According to the words of the designer: "I wanted to create something which I could identify myself with. The new line will combine casual and classic products, but will have very basic models with neutral colors…", in a way the opposite of the lines of women's footwear developed by Luis Onofre.
Besides the strong focus on design and the superior quality of the materials used, the designer is particularly keen to offer comfort to his male customers: "The shoes will have a small height compensation, allowing to discreetly increase the man's height in 3 or 4 centimeters".
The new male line will be presented at theMicam trade fair, in Italy, at the beginning of September, hitting the high street shops and the online store next year.
The designer is still considering to create a limited edition for the next winter season, a kind of preview of what will be coming next year.
Luis Onofre is one the reference brands in women's footwear made in Portugal. Currently more than 90% of the brand's production is exported to markets as diverse as Spain, Russia, Germany, Angola, Nigeria, Mongolia, China, the US and several countries in South America, amongst many others.
For more information about Luis Onofre please refer to the
brands's website
.